VU University Amsterdam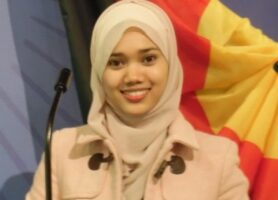 Widya Fitria Ningsih is a junior lecturer and researcher at Gadjah Mada University's Department of History. She obtained both a BA in History (Universitas Gadjah Mada) and in the Cosmopolis Program, Colonial and Global History (Leiden University). She completed her MA in History at Gadjah Mada University. She also conducted research in the Netherlands for her master thesis that focused on memory, identity and experience of Indonesian Chinese Women in the Netherlands, 1940s-1980s, when she enrolled as an exchange student of history at VU University Amsterdam. Her thesis was published by UGM Press in 2015.
PhD Research:  Transnational Identities. European Women in Cold War Indonesia, 1940s-1970s
The Cold War in the context of Indonesian history is often presumed as the most important event after proclamation of Indonesian independence. It had affected the decolonization process in Indonesia, particularly on how the Indonesian nation-state should be defined and established. In 1960s, the Cold War had also framed Indonesia between East and West conflict. Moreover, it had impacted significantly on the pattern of Indonesian and European relations in a more general sense. This situation created the feeling of anxiety and hopefulness for Indonesian society, particularly for those who remained being perceived as outsider as European. My research would like to examine the dynamic process of identity reconstruction of particular group of European women and their views on the future of Indonesia. These women will be approached as exponents of transnational figures whose lives become entangled in histories of decolonization, Third World Project, and the Cold War. This research is significant to enrich the approaches to the Cold War history as well as Indonesian-European relations history which are typically written from the perspective of the elite men and dominated by the Western scholars. Furthermore, it is prominent to show what political lessons can be learned from European women's experiences and activities.
The research is funded by the Indonesia Endowment Fund for Education (LPDP)
Supervisors: Prof. dr. Susan Legêne. Second supervisor: Prof. dr. Bambang Purwanto