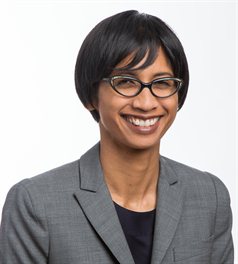 The Netherlands Research School of Gender Studies in cooperation with the Graduate Gender Programme (GGeP) at Utrecht University organises the seventeenth round of the DOING GENDER Lecture Series. These lectures stress the importance of doing gender work combined with an active involvement in the practice of gender theory and research. The concept of DOING GENDER supports a hands-on approach to gender issues in the sense of social and political engagement with the new forms of gender inequalities that are taking shape in the world today. The lecture series wants to give space to the new generations of gender theorists and practitioners and to perspectives that innovate the field and do gender in new ways. Key is the notion of doing gender: what is the state of the art definition of gender? How do contemporary scholars and activists utilise this definition?
On Friday June 9, 2017, dr. Seeta Peña Gangadharan will give a Doing Gender Lecture on 'Our Data Bodies'
From recommendation systems to predictive analytics to risk detection software, automated computer systems increasingly form part of peoples' everyday life. For historically marginalized communities, the experience of data-driven systems speaks to more than just problems of technology's "creepiness" or inappropriateness. In this talk, Seeta Peña Gangadharan discusses the consequences of unrelenting data collection and data processing of members of marginalized groups, reflects on the unequal nature of distribution of data-driven harms in society, and explores differences in how affected communities versus policymakers have considered addressing these problems.
In 2015, Dr Seeta Peña Gangadharan was appointed Assistant Professor at the Department of Media and Communications, London School of Economics and Political Science. Her research interests lie at the intersection of communication policy and social justice. Over the past five years, she has developed a body of work focused on issues of privacy, surveillance, data profiling, and historically marginalized communities. Prior to joining the LSE, she served as Senior Research Fellow at New America's Open Technology Institute, addressing policies and practices related to digital inclusion, privacy, and big data.
Doing Gender Lecture details:
Friday June 9, 2017, dr. Seeta Peña Gangadharan (London School of Economics and Political Science, UK)
Lecture: 'Our Data Bodies' (jointly organized with Datafied Society)
Time: 15.30 – 17.00 hrs followed by drinks
Location:  collegezaal on 3rd floor (public library), Oudegracht 167, Utrecht (hosted by medialab SETUP)
Respondent: Rathenau Institute
There is limited space, so please reserve a seat here.
This is an extra-curricular Doing Gender Lecture and therefore not compulsory for our RMA & GEMMA students.
In the morning there's a Masterclass Data & Discrimination (10.00 – 13.00) organized by the Research School of Media Studies. More info can be found here.