Borders, Boundaries and the Politics of Belonging. Feminist Digital Cartographies
August 30 – September 3, 2021 – online@Utrecht University, the Netherlands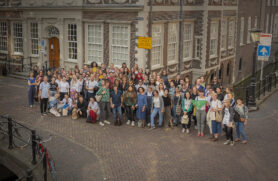 This year, the 28th edition of the NOISE Summer School will take place online from August 30 to September 3 and will introduce you to cutting-edge scholarship on borders, boundaries and the politics of belonging, by looking at the intersection of feminist cartographies, digital media and affect theories. In this summer school we will not only take border zones as an object of inquiry but mobilize the border itself as an epistemological standpoint, or as a method. The Summer School will center around questions such as: how to identify borders politics and border figurations in an interdisciplinary way; how to recognize feminist interventions into the field of digital media studies that challenge the normativity of mainstream media discourses and algorithmic coding; how to apply postcolonial/decolonial/queer interventions to debates on connectivity and belonging by signalling protracted forms of inequality and disparity, and more.
See here for the flyer.
Application deadline: May 17, 2021.
See here for the application form.