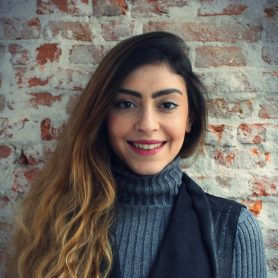 On Wednesday April 21, 2021 NOG PhD Melis Mevsimler will defend her PhD thesis Translocal Modes of Belonging. Diasporic Identity and Digital Media Amongst Migrant Women in London at Utrecht University. 
Migrant women and digital technologies
Over the last decade in Britain, dominant media narratives and populist representations have played a significant dual role representing migration as a crisis and reducing migrants' identities to racialised stereotypes. In response to this, Mevsimler turns attention to how migrant women use digital technologies for communication, representation, and recognition. Drawing upon an interdisciplinary framework that encompasses media studies, urban studies, diaspora studies, and migration studies, and by employing a rich ethnographic approach, she explores how migrant women originally from Turkey, Somalia, and Romania, now living in London, mediate their cultural identities at the intersections of urban and digital spaces.
Translocational belonging
Mevsimler's thesis contributes to the growing body of scholarly work that examines the relationships between diaspora, migration, and digital media, by further elaborating upon how the interplay of urban and technological dynamics co-constitutes gendered diasporic identities. She proposes translocational modes of belonging as a means by which to understand how, on urban, national, and transnational scales, the social positionalities of migrant women vary due to shifting, complex power geometries, and how they use digital technologies to develop collective identities and relations of inclusion and exclusion accordingly in a reflexive manner.
Details PhD Defense
Date: Wednesday April 21, 2021
Time: 10:30 hrs
Location: Due to Covid-19 the PhD defense is online. You can follow the ceremony through this livestream.
Title: Translocal Modes of Belonging. Diasporic Identity and Digital Media Amongst Migrant Women in London
Supervisors: Prof. dr. Sandra Ponzanesi, Prof. dr Myria Georgiou and Dr. Koen Leurs