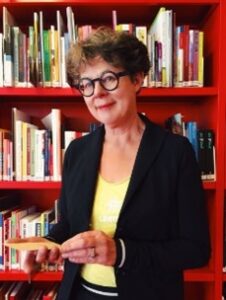 Op vrijdag 16 september 2022 neemt Prof. dr. Mineke Bosch afscheid van de Faculteit der Letteren na ruim twaalf jaar aan de Rijksuniversiteit Groningen als hoogleraar Moderne Geschiedenis verbonden te zijn geweest. Zij doet dat met een afscheidsrede, getiteld Vrouwen – Gender – (Geschied)wetenschap – een persoonlijke terugblik.
De afscheidsrede wordt gehouden in de Doopsgezinde kerk (Oude Boteringestraat 33, 9712 GD Groningen), en begint om 16.00 uur, met aansluitend een receptie. Zie hier om meer te lezen over Mineke's onderzoek.
De afscheidsrede is onderdeel van de tweedaagse conference 'Telling Lives in Science: Reflections on Scholarly (auto)Biography'. Zie hier voor meer informatie over deze conferentie.
*The farewell address will be in Dutch but an English translation will be available.
Details Afscheidsrede
Datum: Vrijdag 16 September, 2022
Time: 16.00 uur
Locatie: de Doopsgezinde Kerk (Oude Boteringestraat 33, 9712 GD Groningen)
Aanmelden kan via het formulier: https://forms.gle/ErZcu1xpkPE8Tm177