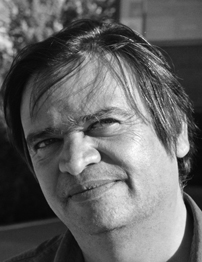 The Netherlands Research School of Gender Studies in cooperation with the Graduate Gender Programme (GGeP) at Utrecht University organises the seventeenth round of the DOING GENDER Lecture Series. These lectures stress the importance of doing gender work combined with an active involvement in the practice of gender theory and research. The concept of DOING GENDER supports a hands-on approach to gender issues in the sense of social and political engagement with the new forms of gender inequalities that are taking shape in the world today. The lecture series wants to give space to the new generations of gender theorists and practitioners and to perspectives that innovate the field and do gender in new ways. Key is the notion of doing gender: what is the state of the art definition of gender? How do contemporary scholars and activists utilise this definition?
On Tuesday April 25, 2017, Professor Ashok Mathur will give a Doing Gender Lecture on 'The Short, Happy Life of Harry Kumar: island hopping and gender swapping'.
As an artist, critic, and novelist, Ashok Mathur is interested in how our bodies, histories and geographies inflect our contemporary social and political conditions. Through his fiction, which often incorporates South Asian mythologies and contemporary practices of magical realism and intertextual strategies, he tries to comprehend this relationship by exposing the reader to multiple and alternative realities. In his novel The Short, Happy Life of Harry Kumar, he became fixated on the origins and interpretations of the Ramayana, particularly the kidnapping of Sita and sequestering her on the island of Lanka, and the highly constructed gender implications of duty and responsibility. He began to investigate the multiple global histories of islands as sites of incarceration, exile, and isolation, and what this meant for a contemporary reality of migration and citizenship. Through the writing of this novel, he explored numerous island sites: the lush yet remote Gulf Islands of western Canada; Toronto Island, a relatively detached culture just minutes from a major North American metropolitan centre; Rottsnest Island, a former penal site off the coast of Western Australia, which itself was a prison colony; and of course Sri Lanka, the island state that is the domain of the demon Ravana (re-investigated palindromatically as Anna Verra) in the original Vedic epic that he rewrites/reconsiders in his novel.
This lecture will unravel the process of writing this novel, not just about the various island sites, but from them, as the novel was written as a peripatetic exercise as he travelled, researched, and wrote while inhabiting each of these island locations. Mathur will show how the creative process is itself an flexible one, far from the clichéd notion of writing being isolationist and best enacted from a singular fixed location. He will present short excerpts from the novel and illustrated annotations that discuss the value and importance of gendered and raced readings in the production of meaning through fiction.
Biography: Ashok Mathur's cultural, critical, creative, and academic practice is wide ranging and investigates new models of artistic research and interdisciplinary collaboration, particularly those that pursue a social justice agenda. As a writer, cultural organizer, and interdisciplinary artist his work addresses the intersections of race, indigeneity, and creative and artistic research. His editorial work includes the anthology Cultivating Canada: reconciliation through the lens of cultural diversity (Aboriginal Healing Foundation, 2011), and numerous special volumes of arts and literary journals such as West Coast Line and Prairie Fire. He has also edited CiCAC Press which published poetry, prose, and creative non-fiction using an alternative author-driven approach to support writers and readers. His books include The First White Black Man (monograph press, 2016); A Little Distillery in Nowgong (Arsenal Pulp Press, 2009) which also functioned as a collaborative art installation in Vancouver, Kamloops, and Ottawa; The Short Happy Life of Harry Kumar (Arsenal, 2001); and Once Upon an Elephant (Arsenal, 1998); in addition he has published a poetic novella, Loveruage (Wolsak and Wynn, 1993). As a Canada Research Chair in Cultural and Artistic Inquiry (2005-13 at Thompson Rivers University), he organized and co-ordinated multiple arts-driven initiatives. Previously, he has organized artist residencies and colloquia in Banff, where he directed the international IntraNation residency in 2004, and Cyprus, where he co-convened the Performing Identity / Crossing Borders performance symposium. Prior to his CRC, Mathur was head of Critical and Cultural Studies at Emily Carr University. As current Head of the Department of Creative Studies at the University of British Columbia, Okanagan campus, Mathur works with critical race theory and radical/liberatory pedagogy to develop transformational and student-driven learning models.

Doing Gender Lecture details:
Tuesday April 25, 2017, Professor Ashok Mathur (The University of British Columbia, Canada)
Lecture: 'The Short, Happy Life of Harry Kumar: island hopping and gender swapping'
Time: 16:00 – 17:30 hrs
Location: Drift 25, room 0.02
Chair: Prof. Rosemarie Buikema
The Doing Gender Lecture Series takes place in Utrecht and is free of charge.
Registration is compulsory: nog@uu.nl
Upcoming Doing Gender Lectures:
– Prof. Ashok Mathur  (The University of British Columbia, Canada):  Tuesday April 25, 2017
– Prof. Roderick Ferguson (University of Illinois, Chicago) & Dr. Rahul Rao (SOAS, University of London): Thursday May 18, 2017
– Prof. Lynne Huffer (Emory University, USA): Tuesday June 13, 2017