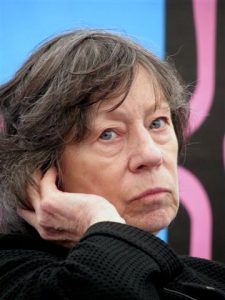 In the spring of 2015 the Netherlands Research School of Gender Studies in cooperation with the Graduate Gender Programme (GGeP) at Utrecht University organises the fourteenth round of the DOING GENDER Lecture Series. These lectures stress the importance of doing gender work combined with an active involvement in the practice of gender theory and research. The concept of DOING GENDER supports a hands-on approach to gender issues in the sense of social and political engagement with the new forms of gender inequalities that are taking shape in the world today. The lecture series wants to give space to the new generations of gender theorists and practitioners and to perspectives that innovate the field and do gender in new ways. Key is the notion of doing gender: what is the state of the art definition of gender? How do contemporary scholars and activists utilise this definition?
On Friday May 22, 2015 Professor Laura Mulvey and Dr. Anna Backman Rogers will give a Doing Gender Lecture on 'A dialogue on Film & Feminist Film Theories'.
Forty years after Visual Pleasure and Narrative Cinema, Mulvey and Backman Rogers's Feminisms: Diversity, Difference, and Multiplicity in Contemporary Film Cultures (Amsterdam University Press, 2015) addresses the various ways in which feminism is made visible as both theory and practice in the contemporary field of film studies. Drawing on a diverse range of scholars for whom the term feminism might have different meaning, this book rejects the reductive form or definition of feminism and aims to contribute to the feminist conversation by foregrounding notions of diversity, difference, and multiplicity while engaging with a historical context. This eclectic examination of contemporary images of women and their narratives shows the plurality of feminist goals to end patriarchy, and establishes the developments in the history, theory, and practice of feminist film theory within the wider field of media studies, thereby demonstrating the importance of feminisms as a form of philosophy and political activism.
Mulvey and Backman Rogers will engage in a dialogue and a discussion with the public in the context of the NOG's Doing Gender Lecture Series. The discussion will focus on cutting-edge and contemporary theorising in the field of feminist film theory. The discussion will centre on questions such as: Why and how to study gender-related questions in the field of film and TV? Why and how to study the impact of film and television on female audiences? What was and is the impact of feminist films and projects on individuals and culture? What has changed in the field of film and film studies since the 1970s, when Laura Mulvey published her seminal essay Visual Pleasure and Narrative Cinema in Screen in 1975?
Laura Mulvey is a British feminist film theorist. She is currently professor of film and media studies at Birkbeck, University of London. She worked at the British Film Institute for many years before taking up her current position.
Professor Mulvey has been awarded three honorary degrees: in 2006 a Doctor of Letters from the University of East Anglia; in 2009 a Doctor of Law from Concordia University; in 2012 a Bloomsday Doctor of Literature from University College Dublin. Mulvey is best known for her essay Visual Pleasure and Narrative Cinema written in 1973 and published in 1975 in the influential British film theory journal Screen. It later appeared in a collection of her essays entitled Visual and Other Pleasures, as well as in numerous other anthologies. Her article, which was influenced by the theories of Sigmund Freud and Jacques Lacan, is one of the first major essays that helped shift the orientation of film theory towards a psychoanalytic framework. Mulvey's inaugurated the intersection of film theory, psychoanalysis and feminism.
Dr. Anna Backman Rogers specialises in film philosophy, American independent cinema and feminist theory. She is currently working on two monographs; 'American Independent Cinema: A Crisis-Image', which is due out with Edinburgh University Press in 2015 and 'Sofia Coppola'
Lecture details:
– Friday May 22, 2015: Prof. Laura Mulvey (Birkbeck, University of London) and Dr. Anna Backman Rogers (University of Gothenburg, Sweden)
– Lecture: Archival Turns and Queer Affective Methods
– Time: 12.00 – 14.00 hrs
– Location: Utrecht
– Chair: Prof. Dr. Rosemarie Buikema
The Doing Gender Lecture Series (flyer) takes place in Utrecht and is free of charge. Registration is not compulsory, but highly appreciated: nog@uu.nl or 030 – 253 6001.