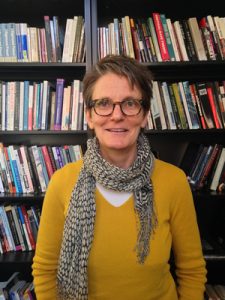 The Netherlands Research School of Gender Studies in cooperation with the Graduate Gender Programme (GGeP) at Utrecht University organises the sixteenth round of the DOING GENDER Lecture Series. These lectures stress the importance of doing gender work combined with an active involvement in the practice of gender theory and research. The concept of DOING GENDER supports a hands-on approach to gender issues in the sense of social and political engagement with the new forms of gender inequalities that are taking shape in the world today. The lecture series wants to give space to the new generations of gender theorists and practitioners and to perspectives that innovate the field and do gender in new ways. Key is the notion of doing gender: what is the state of the art definition of gender? How do contemporary scholars and activists utilise this definition?
On Monday March 14, 2016 Professor Shannon Winnubst will give a Doing Gender Lecture on 'After sex, Before race'.
Abstract of the lecture:
Queer theory seduced me, over and over, with one salient argument: the incisive, multifaceted dismantling of identity.  What would it mean, in this vein, to queer race?
This lecture explores a possible temporal chiasm: the ecstatic moment after sex and before race.  By radically reorienting queer theory onto a decolonial geohistorical axis, I experiment with writing queer of color critique in an ontological register.  This continues my closing efforts in Way Too Cool to read race as a signaling of the Lacanian real.  By investigating various neoliberal affects, I want to cultivate attentiveness to the opacity of race as a decolonizing movement through the complex array of emergences and erasures, spasmodic and systematic, that cling to this 'sticky' concept of race. In this lecture, I will explore "stuttering race" as one of these contemporary affects.
Shannon Winnubst is professor of women's, gender, and sexuality studies at the Ohio State University. Her current work inquires into the conceptual transformations of social difference and ethics underway in the social rationality of neoliberalism, especially as diagnosed by Foucault in his 1979 lectures. She is the author of Way Too Cool. Selling out race & ethics (2015), Queering Freedom (2006) and editor of Reading Bataille Now (2006). She's also the co-editor, with Lynne Huffer, of philoSOPHIA: A Journal of Continental Feminism.
Lecture details:
Monday March 14, 2016: Professor Shannon Winnubst (The Ohio State University, USA)
Lecture: After sex, Before race
Time: 16.00-17.30 hrs
Location: Utrecht
Chair: Prof. dr. Rosemarie Buikema
The Doing Gender Lecture Series takes place in Utrecht and is free of charge.
Registration is compulsory: nog@uu.nl
Upcoming Doing Gender Lectures:
– Prof. dr. Tina Chanter (Kingston University London): Wednesday May 18, 16.00 – 17.30 hrs