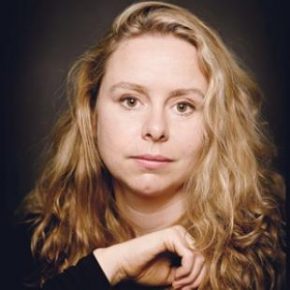 June 19, 2014: Sunny Bergman.
Dutch filmmaker Sunny Bergman will give the last Doing Gender Lecture of Spring 2014.
In 2013 Bergman published the book and film Sletvrees and she previously made Over the Hill (Beperkt Houdbaar; 2007), a film challenging the beauty industry and criticising how it distorts the image women have of themselves.
Bergman has won the Dick Scherpenzeel Prize 2012 for her film Sunny side of sex (2011): a four-part documentary on sexuality, femininity and the female body in non-Western parts of the world. Sunny Bergman filmed women in Cuba, India, China and Uganda, revealing the positive side of sexuality in their cultures.
In the spring of 2014 the Netherlands Research School of Gender Studies (NOG) in cooperation with the Graduate Gender Programme (GGeP) at Utrecht University organises the twelfth round of the DOING GENDER Lecture Series (flyer). These lectures stress the importance of doing gender work combined with an active involvement in the practice of gender theory and research. The concept of DOING GENDER supports a hands-on approach to gender issues in the sense of social and political engagement with the new forms of gender inequalities that are taking shape in the world today. The lecture series wants to give space to the new generations of gender theorists and practitioners and to perspectives that innovate the field and do gender in new ways. Key is the notion of doing gender: what is the state of the art definition of gender? How do contemporary scholars and activists utilise this definition?
Lecture details:
Thursday June 19, 2014: Sunny Bergman
Time: 16.00 – 17.30 hrs
Location: Utrecht, Drift 21, room 0.32
Chair: Prof. Dr. Rosemarie Buikema
The Doing Gender Lecture Series takes place in Utrecht and is free of charge. Registration is not compulsory, but highly appreciated: nog@uu.nl or 030 – 253 6001.