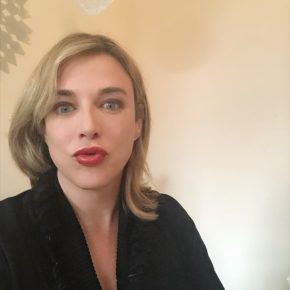 The Netherlands Research School of Gender Studies in cooperation with the Graduate Gender Programme (GGeP) at Utrecht University organises the eighteenth round of the DOING GENDER Lecture Series. These lectures stress the importance of doing gender work combined with an active involvement in the practice of gender theory and research. The concept of DOING GENDER supports a hands-on approach to gender issues in the sense of social and political engagement with the new forms of gender inequalities that are taking shape in the world today. The lecture series wants to give space to the new generations of gender theorists and practitioners and to perspectives that innovate the field and do gender in new ways. Key is the notion of doing gender: what is the state of the art definition of gender? How do contemporary scholars and activists utilise this definition?
Looking at the artwork of Ellen Gallagher, this talk asks how race and racial thinking have shaped our understanding of seawater, oceans, and undersea life. Problematically, oceans are often deracinated in science studies, art history, and cultural studies, reinforcing an unspoken assumption that the politics of race stop at the shoreline. In her ongoing project titled Watery Ecstatic (2001-present), Gallagher juxtaposes Sun Ra's afro-futurism and Freud's often-overlooked interests in oceanography (a researcher of marine zoology in Trieste) with her own studies of the mythical Drexciya, an undersea world populated by those who were murdered or committed suicide along the slave routes of the "Middle Passage." Through these paintings, reliefs, and drawings, Gallagher asks us to reflect on the relationship between Freud's "oceanic feeling" and geopolitical trauma. How are oceans a melancholic domain for what cannot be remembered? In what ways does anti-black racism shape marine matter(s)?
Eva Hayward is an assistant professor in Gender & Women's Studies at the University of Arizona, Tucson. Receiving her Ph.D. in History of Consciousness at UC Santa Cruz (2008), she has taught at the University of California, Santa Cruz, University of New Mexico, and University of Cincinnati. She held postdoctoral fellowships at Uppsala University (Sweden) and Duke University. Her research focuses on aesthetics, environmental and science studies, and sexuality studies. At the University of Arizona, she has taught course on Feminist Animal Studies, Environmental Studies, Transgender Studies, Queer Cinema, and Sexuality & Aesthetics.  She has recently published articles in Angelaki, Transgender Studies Quarterly, Cultural Anthropology, Parallax, differences, and Women's Studies Quarterly. Hayward's forthcoming book "SymbioSeas" looks at underwater representations of marine organisms to think about the interplay of sexuality and animal sciences, specifically how the unknowability of "the Animal" is sexually oriented in laboratory research and display practices.
Doing Gender Lecture details:
Thursday February 22, 2018

Lecture:    'Coral Cities: Ellen Gallagher and "Ante-Mater"'
Time:         15:30 – 17:00 hrs
Location:  Utrecht University, Drift 25, room 0.02
Chair:         Dr. Kathrin Thiele
This Doing Gender Lecture is free of charge.
Registration is compulsory: nog@uu.nl