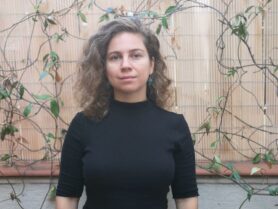 The Netherlands Research School of Gender Studies in cooperation with her partners organises the Doing Gender Lecture Series. These lectures stress the importance of doing gender work combined with an active involvement in the practice of gender theory and research. The concept of DOING GENDER supports a hands-on approach to gender issues in the sense of social and political engagement with the new forms of gender inequalities that are taking shape in the world today. The lecture series wants to give space to the new generations of gender theorists and practitioners and to perspectives that innovate the field and do gender in new ways. Key is the notion of doing gender: what is the state of the art definition of gender? How do contemporary scholars and activists utilise this definition?
On Tuesday December 1, 2020 Gisela Carrasco-Miró will give the Doing Gender Lecture Decolonising Development: Putting Life at the Centre.
Lecture Decolonising Development: Putting Life at the Centre
This lecture starts from the observation that development is more than economic exchange and involves important social, political and cultural aspects. It interrogates the way development ideas and practices are embedded in cultural contexts, and specifically how the development industry is culturally and historically entangled in Western and modernist conceptions of gender, progress, nature and rationality. This inevitably raises issues of power, knowledge and cultural relativism. But the question remains: how to live together in a way that living is worthy and just for all? At the origin of the current civilisatory crisis lies the break of Western culture and modernity with the materiality of the bodies and Earth. Deconstructing the myths, fables and beliefs that support an ecocidal, patriarchal, colonial and unjust development culture is a preliminary step to reorienting the subjectivities and practices that make life, finite and vulnerable, a priority.
Biography
Gisela Carrasco-Miró holds a PhD in Gender Studies from Utrecht University and she was affiliated with the Netherlands Research School of Gender Studies. She holds a Master in Science in Development Economics from the School of Oriental and African Studies (London University). Over eight years she has worked as Gender Advisor and Local Economic Development Programme Specialist for the United Nations in Central America and Sub-Saharan Africa as well as independent researcher for several international organizations. She has published on decolonising knowledges on politics of development, economics and feminism in peer-reviewed journals such as Feminist Theory; Social Politics; Insurgencies from the South and Human Rights. A Transdiciplinary Journal of Postcolonial Humanities; and International Relations Journal. Gisela is currently a lecturer at the Open University of Catalonia and in January 2021 will start as Visiting Professor at the Central European University in Vienna.
Details lecture:
Doing Gender Lecture Gisela Carrasco-Miró
Tuesday December 1 , 2020
Lecture: Decolonising Development: Putting Life at the Centre
Time: 17.00 – 18.15 hrs
Location: online via Teams
Chair: Dr. Jamila Mascat
Registration: nog@uu.nl ; link will be sent.