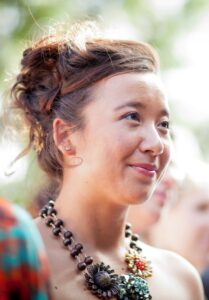 Hélène Phoa was a graduate of the Research Master Gender Studies at Utrecht University and affiliated with the Netherlands Research School of Gender Studies NOG. She graduated in 2018. Hélène was too young when she passed away in 2019. In memory of her life, her courage and her commitment to Gender Studies, the family of Hélène Phoa made it possible to award a yearly prize for a gender studies thesis. The prize is intended to contribute to supporting a graduate in the passage from being a student in gender to a rewarding next phase in life where 'doing gender' may find a new form.
Every year a prize of €1000,- will be awarded to a thesis.
Conditions:
The yearly prize of €1000,- may be awarded to a gender studies thesis under these conditions:
The thesis was written by a student who was registered in Gender Studies Two Year Research Master Programmes at Utrecht University: Gender Studies (research), this includes the GEMMA-programme at UU.
The thesis was supervised and assessed by at least one of teacher in this programme.
For the 2020 prize, the eligible theses are those that have been assessed between September 1, 2018 and September 1, 2020.
From the year 2021 onwards, the prize may be awarded to students who graduated the preceding academic year between September 1 and August 31.
Criteria:
Originality in the field of gender studies: exploring under researched or surprising questions.
Conclusions are formulated in such a way that they reach out to new readerships.
The author has shown perseverance and commitment in writing the thesis by overcoming personal, financial or social challenges.
More information on submission and deadlines, please contact: Genderstudies@uu.nl mentioning Hélène Phoa Prize.