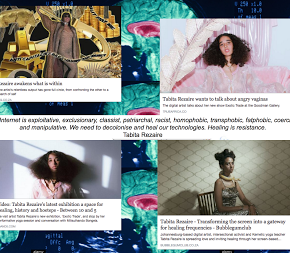 On Thursday October 5 artist Tabita Rezaire will give a lecture on her video work. The session is titled 'Decolonial trinity: technologies of the spiritual, erotic and politic'.
Tabita Rezaire (b.1989, Paris) is a French – of Guyanese and Danish descent – video artist, health-tech-politics practitioner and Kemetic/ Kundalini Yoga teacher based in Johannesburg. She holds a Bachelor in Economics (Paris) and a Master in Artist Moving Image from Central Saint Martins College (London). Rezaire's practices unearth the possibilities of decolonial healing through the politics of technology. Navigating architectures of power – online and offline – her work tackles the pervasive matrix of coloniality and its affects on identity, technology, sexuality, health and spirituality.
Through screen interfaces, her digital healing activism offers substitute readings to dominant narratives decentering occidental authority, while her energy streams remind us to resist, (re)connect, and remember.
Rezaire is a founding member of the artist group NTU, half of the duo Malaxa, and mother of the energy house SENEB.
In 2017, she presented her first solo show Exotic Trade at the Goodman Gallery in Johannesburg. Artsy declared her among the 'emerging artists to watch for in 2017', Artnet among the 'international Black artists of 2016', and True Africa amid the 'top opinion makers of the African continent in 2015'. Rezaire has shown her work internationally – V&A London, National Gallery of Denmark, Berlin Biennale, Tate Modern London, Museum of Modern Art Paris, MoCADA NY, The Broad LA and presented her work on numerous panels – Het Nieuwe Institut Rotterdam, Royal Academy The Hague, Kunsthalle Bern, National Gallery Harare, Cairotronica Cairo, Fakugezi Digital Art Africa Johannesburg. She has curated screenings at the Institute of Contemporary Art London, led spiritual technology workshops worldwide and has her writing published by Intellect books. Rezaire lives and works in Johannesburg, South Africa.
In 2016, Tabita was a resident at the Utrecht Impakt festival, see http://impakt.nl/headquarters/resident-artist-tabita-rezaire/
This event is co-organized by Koen Leurs and Domitilla Olivieri from the Graduate Gender Programme / Netherlands Research School of Gender Studies with Michiel De Lange from the New Media & Digital culture Program, under heading of the the Postcolonial Studies Initiative and Co.laborations, the Expertise Centre of Utrecht University's Department of Media and Culture, and in dialogue with the Impakt festival.
Details:
Thursday October 5, 17.00-18.30h
Location: Theaterzaal, Parnassos (Kruisstraat 201, Utrecht)
Kindly RSVP to this Facebook event to let us know you are coming.