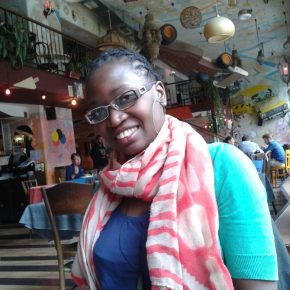 Decolonised Sexualities: The Lived Experiences of Black Township Women Who Love Women
On January 24, 2018 Phoebe Kisubi Mbasalaki will defend her PhD thesis at Utrecht University.
This thesis centres the lived experiences of black township women in same-sex relationships in Cape Town and Johannesburg. The main question—'How do black township women construct their same-sex sexuality?'—called for a mixed methods approach, combining qualitative and quantitative data. Set against the back-drop of a country with, on the one hand, one of the most progressive constitutions in the world, and high levels of unemployment and homophobia on the other, Mbasalaki presents how township women enact being both African and homosexual whilst occupying a predominantly heterosexual space.
Three main narratives are presented. The first narrative, the infra-political narrative, greatly inspired by James Scott's (1990), presents how black township women in same-sex relationships resist prevailing hegemonies while simultaneously creating spaces of belonging at an individual, communal and national level in these predominantly heterosexual spaces. While the second narrative – the gender identification narrative – foregrounds the performance of South African lesbianism, specifically as it is expressed through masculinities—South African female masculinities. Mbasalaki works with the local labelling of bhuti – and clinically shows how bhuti draw on similar resources as male-bodied subjects to enact their masculinities, accruing to the overall township and national masculine capital. One of her research findings is a complex masculine gender system, in which masculinity is not the sole preserve of biological males and links this to the genealogical continuities of female masculinities—such as mukadzirume (man-woman)—that have historically contributed to this overall masculine capital.
The third narrative – the narrative of pleasure and danger – draws out how black township women in same-sex relationships navigate the tension between desire, lust, and love, and the possibility of contracting sexually transmitted diseases such as HIV. Through an explicitly intersectional and decolonial lens, Mbasalaki deploys a double move, deconstructing the underlying assumptions as suggested by Smith (1999) to expose that which alienates African-ness from homosexuality, as well as adopting a similar strategy to that developed by Mignolo (2016), namely rebuilding to re-exist, as made intelligible by the existence of black township women in same-sex intimacies. In this way contributing to 'Africa-centred knowledges' of the inner sexual lives of black women in same-sex intimacies and how they think about themselves sexually (Wekker 2006).
Date: Wednesday January 24, 2018
Time: 12:45 hrs (late entrance not possible)
Location: Senaatszaal, University Hall, Domplein 29, Utrecht
Title: 'Decolonised Sexualities: The Lived Experiences of Black Township Women Who Love Women'
Supervisors: Prof. dr. Rosemarie Buikema, Prof. dr. Gloria Wekker, Dr. Zethu Matebeni