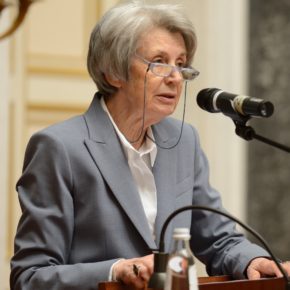 Due to the Coronavirus this seminar has been cancelled. 
On March 18, 2020 Prof. Luisa Passerini (European University Institute) will give a presentation on Visual Intersubjectivity. She will talk about her ERC project 'Bodies Across Borders: Oral and Visual Memory in Europe and Beyond' and her book Conversations on Visual Memory (2018) The intent of this research was to establish visual exchanges aimed at finding/creating images of mobility towards and across Europe contrasting the mediatic representation of 'invasion' and/or 'victims'. This intent implied subjecting the terms 'migrants' and 'refugees' to conceptual and terminological criticism. Our fieldwork included collecting images produced by artists working on European borders as well as drawings and photographs by interviewees of their itineraries. In this way, an indirect dialogue was established between two forms of visual memory reflecting a mediated intersubjective exchange, which is already ongoing in the interstices of present-day Europe, in spite of growing xenophobia and racism. This dialogue is one of the 'conversations' that give rise to visual intersubjectivity.
Prof. Damir Arsenijević (University of Tuzla) will  give a response to the lecture.
Luisa Passerini is professor at the European University Institute in Florence, Italy, visiting Professor at Columbia University, New York, and former professor of Cultural History at the University of Turin, Italy. Luisa Passerini's research has followed several major themes, which form connecting threads through various fields. She has studied the history of the subjects of social and cultural change, from the African liberation movements to the movements of workers, students, and women in our century. She heads the ERC funded research project "Bodies Across Borders: Oral and Visual Memory in Europe and Beyond" (BABE) which aims to understand new forms of European identity. Luisa Passerini's further research fields include History of subjectivity, including forms of European identity, Gender and generations or Diasporic subjectivities.
Damir Arsenijević is professor of Literary and Cultural Studies at the University of Tuzla and a psychoanalyst in training.
Due to the Coronavirus this seminar has been cancelled. 
Date: Wednesday March 18, 2020
Time: 16:30 – 18:00 hrs
Location: tba
Registration: nog@uu.nl