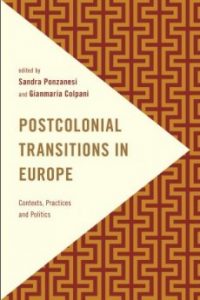 The book Postcolonial Transitions in Europe: Contexts, Practices and Politics (eds. Sandra Ponzanesi and Gianmaria Colpani, Rowman & Littlefield International, 2015) is a comparative and multidisciplinary exploration of Europe's colonial past in relation to present multicultural, cosmopolitan and/or neocolonial experiences, assessing political, cultural and mediatized transitions.
Is the notion of postcolonial Europe an oxymoron? How do colonial pasts inform the emergence of new subjectivities and political frontiers in contemporary Europe? Postcolonial Transitions in Europe explores these questions from different theoretical, geopolitical and media perspectives. Drawing from the interdisciplinary tools of postcolonial critique, this book contests the idea that Europe developed within clear-cut geographical boundaries. It examines how experiences of colonialism and imperialism continue to be constitutive of the European space and of the very idea of Europe. By approaching Europe as a complex political space, the chapters investigate topical concerns around its politics of inclusion and exclusion towards migrants, asylum seekers and refugees, as well as its take on internal conflicts, transitions and cosmopolitan imaginaries. With a foreword by Paul Gilroy.
For more information and to order the book, see this website.