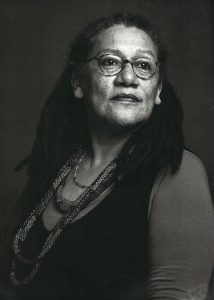 The Netherlands Research School of Gender Studies in cooperation with the Graduate Gender Programme (GGeP) at Utrecht University organises the fifteenth round of the DOING GENDER Lecture Series. These lectures stress the importance of doing gender work combined with an active involvement in the practice of gender theory and research. The concept of DOING GENDER supports a hands-on approach to gender issues in the sense of social and political engagement with the new forms of gender inequalities that are taking shape in the world today. The lecture series wants to give space to the new generations of gender theorists and practitioners and to perspectives that innovate the field and do gender in new ways. Key is the notion of doing gender: what is the state of the art definition of gender? How do contemporary scholars and activists utilise this definition?
On Tuesday January 26, 2016 Professor Emeritus Gloria Wekker will give a Doing Gender Lecture on her new book White Innocence.
Gloria Wekker will talk about her new book White Innocence, in which she explores a central paradox of Dutch culture: the passionate denial of racism and colonial violence coexisting alongside aggressive racism and xenophobia. Accessing a cultural archive built over 400 years of Dutch colonial rule, Wekker fundamentally challenges Dutch racial exceptionalism by undermining the dominant narrative of the Netherlands as a "gentle" and "ethical" nation. Wekker analyzes the Dutch media's portrayal of black women and men, the failure to grasp race in the Dutch academy, contemporary conservative politics (including gay politicians espousing anti-immigrant rhetoric), and the controversy surrounding the folkloric character Black Pete, showing how the denial of racism and the expression of innocence safeguards white privilege. Wekker uncovers the postcolonial legacy of race and its role in shaping the white Dutch self, presenting the contested, persistent legacy of racism in the country.
Gloria Wekker is Professor Emeritus of Gender Studies at Utrecht University (NL) and the author of several books, including The Politics of Passion: Women's Sexual Culture in the Afro-Surinamese Diaspora. Wekker is a social and cultural anthropologist (UvA 1981). Her specializations are in the field of Gender Studies, Sexuality Studies, African American Studies, and Caribbean Studies. Since 2001 she occupied the Aletta (IIAV)-chair Gender and Ethnicity at the Faculty of Humanities of Utrecht University (NL). She has been the coordinator of the one-year Master "Comparative Women's Studies in Culture and Politics" at Utrecht University. Wekker published on a wide range of areas including the sexual subjectivity of women in the black Diaspora, knowledge systems in Dutch academia and Dutch multicultural society, diversity in the curriculum on literature and the history of black, migrant and refugee – women movement in the Netherlands. She also writes short stories and poetry.
Lecture details:
Tuesday January 26, 2016: Professor Emeritus Gloria Wekker  (Utrecht University, NL)
Lecture: White Innocence
Time: 16.00-17.30 hrs
Location: Utrecht
Chair: Prof. Dr. Rosemarie Buikema
The Doing Gender Lecture Series takes place in Utrecht and is free of charge.
Registration is compulsory: nog@uu.nl or 030 – 253 6001