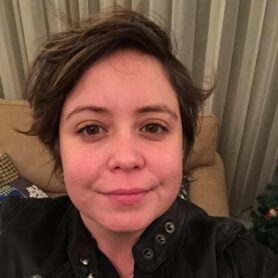 On Wednesday November 9, 2022 from 17.00 – 18.30 hrs Associate Professor Maya Mikdashi will give the talk 'Sextarianism: Sovereignty, Secularism and the State in Lebanon' (organized by the NOG and the NOG PhD Council).
In this talk, Maya Mikdashi will speak about her new book Sextarianism: Sovereignty, Secularism and the State in Lebanon (SUP, 2022), which offers a new way to understand state power, theorizing how sex, sexuality, and sect shape and are shaped by law, secularism, and sovereignty.
The Lebanese state is structured through religious freedom and secular power sharing across sectarian groups. Every sect has specific laws that govern kinship matters like marriage or inheritance. Together with criminal and civil laws, these laws regulate and produce political difference. But whether women or men, Muslims or Christians, queer or straight, all people in Lebanon have one thing in common—they are biopolitical subjects forged through bureaucratic, ideological, and legal techniques of the state.
Drawing on court archives, public records, and ethnography of the Court of Cassation, the highest civil court in Lebanon, Mikdashi shows how political difference is entangled with religious, secular, and sexual difference. She presents state power as inevitably contingent, like the practices of everyday life it engenders, focusing on the regulation of religious conversion, the curation of legal archives, state and parastatal violence, and secular activism. Sextarianism locates state power in the experiences, transitions, uprisings, and violence that people in the Middle East continue to live.
The book talk will be followed by a response by Dr. Layal Ftouni (Utrecht University).
Biography:
Maya Mikdashi is an Associate Professor in the Department of Women's, Gender, and Sexuality Studies at Rutgers University. Her first book Sextarianism: Sovereignty, Secularism and the State in Lebanon (SUP, 2022) theorizes the relationships between sexual difference and political difference, the religious and the secular, and law, bureaucracy, and biopower. Her work is grounded in ethnographic and archival research, and has been translated into Arabic, Turkish, French, Spanish and German.  Maya has been published in several peer reviewed journals, including the International Journal of Middle East Studies, Gay and Lesbian Quarterly, Transgender Studies Quarterly, Comparative Studies of South Asia, Africa and the Middle East, the Journal of Palestine Studies, and the American Indian Culture and Research Journal. She has also been published in peer reviewed edited volumes and in public facing venues. She is a co-founding editor of Jadaliyya.
Details lecture:
Lecture: 'Sextarianism: Sovereignty, Secularism and the State in Lebanon' 
Date/Time: Wednesday November 9, 2022 at 17.00-18.30 hrs (CET)
Location: on location at Utrecht University, Drift 25, 1.02 and online through the livestream
Chair: Nisrine Chaer
Discussant: Layal Ftouni (Utrecht University)
Registration: please register using the form below or send an email to nog@uu.nl
*A livestreamed alternative is available yet we highly encourage you to attend the event in person.
On Thursday November 10, 2022 Maya Mikdashi will teach the NOG Masterclass 'Sex and Multiplicity: Contingency and Unknowability as Feminist Praxis' (PhD and RMA students only, limited availability). See here for more information.