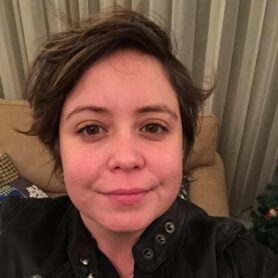 On Thursday November 10, 2022 from 11.00 – 15.00 hrs Associate Professor Maya Mikdashi will teach the masterclass 'Sex and Multiplicity: Contingency and Unknowability as Feminist Praxis' (organized by the NOG and the NOG PhD Council). What are the relationships between visibility, opacity, and possibility in how, when, and where we theorize sex and sexuality? How might a theory and method of multiplicity open new perspectives from which to view and depart from debates on subjectivity, authenticity, and historical trajectory that continue to vex academic conversations on transnational sexuality?
This masterclass will explore these questions through academic articles, legal decisions, film, and poetry. Thinking across these different genres of text, we explore archival, ethnographic, artistic and theoretical encounters with violence and sexual difference, and the contradictory desires and motivations that animate how and why we approach and narrate these subjects. Together, we will workshop a feminist method and theory that is anchored in multiplicity, unknowability, and contingency.
Readings:
Adnan, Etel. To Be in A Time of War. In the Heart of the Heart of Another Country. City Lights Books, 2005
Arondekar, Anjali. "In the Absence of Reliable Ghosts: Sexuality, Historiography, South Asia." differences 25, no. 3 (2014): 98-122.
Hartman, Saidiya. "Venus in two acts." Small Axe: A Caribbean Journal of Criticism 12, no. 2 (2008): 1-14.
Mikdashi, Maya. "A Fire in the Archive; History, Ethnography, Multiplicity" and "The Epidermal State: Violence and the Materiality of Power." Sextarianism: Sovereignty, Secularism, and the State in Lebanon. Stanford University Press, 2022.
Shakhsari, Sima. "Killing me Softly with your Rights: Queer Death and the Politics of Rightful Killing." In Queer necropolitics, pp. 93-110. Routledge, 2014.
Zengin, Aslı. "The Afterlife of Gender: Sovereignty, Intimacy and Muslim Funerals of Transgender People in Turkey." Cultural Anthropology 34, no. 1 (2019): 78-102.
Beirut Civil Court Decision, May 22, 1992
Soueid, Mohamed. "Cinema Fouad." 1993, runtime 41 minutes
Recommended:
Arondekar, Anjali, and Geeta Patel. "Area impossible: Notes toward an introduction." GLQ: A Journal of Lesbian and Gay Studies 22, no. 2 (2016): 151-171.
Mikdashi, Maya, and Jasbir K. Puar. "Queer theory and permanent war." GLQ: A Journal of Lesbian and Gay Studies 22, no. 2 (2016): 215-222.
Stanley, Eric A. "Anti-trans optics: Recognition, opacity, and the image of force." South Atlantic Quarterly 116, no. 3 (2017): 612-620.
Registration:
Participation is open to PhD and advanced Research Master students. NOG members have first access.
Please register for the masterclass by sending an abstract of your own ongoing research project (max. 250 words) and additional short paragraph stating your motivation (max. 100 words). Kindly send the abstract and the motivation paragraph to NOG@uu.nl by November 4, 2022.
This masterclass will take place at Utrecht University (in person, location to be announced).
PhD and RMA students will be awarded 2 ECTS for attending the NOG masterclass and the NOG public talk by Maya Mikdashi titled "Sextarianism: Sovereignty, Secularism, and the State in Lebanon" on Wednesday November 9, 2022 at Utrecht University (17.00-18.30 hrs; location t.b.a.). More information on the public lecture can be found here.
Biography: 
Maya Mikdashi is an Associate Professor in the Department of Women's, Gender, and Sexuality Studies at Rutgers University. Her first book Sextarianism: Sovereignty, Secularism and the State in Lebanon (SUP, 2022) theorizes the relationships between sexual difference and political difference, the religious and the secular, and law, bureaucracy, and biopower. Her work is grounded in ethnographic and archival research, and has been translated into Arabic, Turkish, French, Spanish and German.
Maya has been published in several peer reviewed journals, including the International Journal of Middle East Studies, Gay and Lesbian Quarterly, Transgender Studies Quarterly, Comparative Studies of South Asia, Africa and the Middle East, the Journal of Palestine Studies, and the American Indian Culture and Research Journal. She has also been published in peer reviewed edited volumes and in public facing venues. She is a co-founding editor of Jadaliyya.