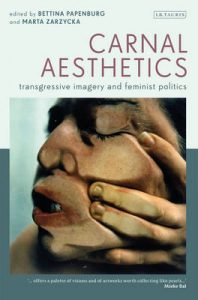 Art today is an increasingly multifaceted phenomenon, encompassing transgressive works that intervene in war, inequalities, ecological disasters, and revolutionary changes in technology. Carnal Aesthetics is a fascinating new examination of this aspect of contemporary visual culture.
Employing recent theories of transgressive body imagery, trauma, affectivity and sensation, this book provides a fresh look at the meeting point between the politics of representation and the politics of perception, through the prismatic lens of feminist theory.
Acclaimed scholars, including Griselda Pollock, Vivian Sobchack, Laura Marks, Erin Manning, Jill Bennett, and Martine Beugnet, analyse seminal case studies coming from different media: digital photography, video, film and multimedia art. They explore a number of transgressive movements that significantly reconfigure the relationship between the body and the image, challenging also the primacy of vision.
Dr Marta Zarzycka and Dr Bettina Papenburg are both Assistant Professor in Gender Studies at Utrecht University.
Title:
Carnal Aesthetics: Transgressive Imagery and Feminist Politics
Author(s):
Marta Zarzycka, Bettina Papenburg (eds.)
isbn:
9781780760124 (hardback),
9781780760131 (paperback)
Price:
£56.00 (hardback),
£18.99 (paperback)
Publisher:
2012, I.B. Tauris