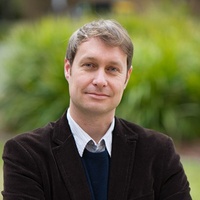 The Netherlands Research School of Gender Studies in cooperation with the Graduate Gender Programme (GGeP) at Utrecht University organises the seventeenth round of the DOING GENDER Lecture Series. These lectures stress the importance of doing gender work combined with an active involvement in the practice of gender theory and research. The concept of DOING GENDER supports a hands-on approach to gender issues in the sense of social and political engagement with the new forms of gender inequalities that are taking shape in the world today. The lecture series wants to give space to the new generations of gender theorists and practitioners and to perspectives that innovate the field and do gender in new ways. Key is the notion of doing gender: what is the state of the art definition of gender? How do contemporary scholars and activists utilise this definition?
On Thursday December 1, 2016, Dr. Benjamin Authers will give a Doing Gender Lecture on 'Analogies of harm: Excess, expression, and pornography in Margaret Atwood's Bodily Harm and the Supreme Court of Canada decision in R v Butler.'
Thinking through Margaret Atwood's novel Bodily Harm and the Supreme Court of Canada case R v Butler, this talk examines a Canadian discussion about the excessiveness of the freedom of expression to which pornography has been central. In Atwood's novel, expression is central to Bodily Harm's narrative of personal political revelation. Yet it is also at the root of a discourse of harm that Atwood elucidates throughout the text as she incorporates pornography into an expansive analogic continuity of violence. In Butler, the Supreme Court curtails obscenity in the name of equality and collective well-being, even as it continues to view expression as a valuable individual freedom and a national good. In each text the freedom both is and is not safeguarded, with the Supreme Court longing for an ideal Canada where obscenity is absent and with Atwood's novel concluding in deferral. In each, freedom of expression can be conceived of and celebrated, but its excessive meaning must also be contained.
Benjamin Authers is Assistant Professor of Law in the School of Law and Justice at the University of Canberra, Australia, and a Visiting Fellow at the School of Regulation and Global Governance (RegNet), Australian National University. His research is on human rights, literature, and law, with a particular interest in the language and place of texts in Canadian and global human rights contexts. His book A Culture of Rights: Law, Literature, and Canada was published by University of Toronto Press in 2016.
Doing Gender Lecture details:
Thursday December 1, 2016: Dr. Benjamin Authers (University of Canberra)
The Doing Gender Lecture Series takes place in Utrecht and is free of charge.
Registration is compulsory: nog@uu.nl