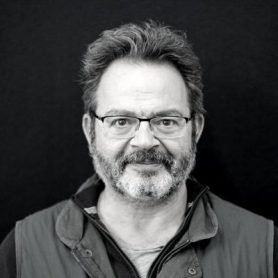 The Netherlands Research School of Gender Studies in cooperation with her partners organises the eighteenth round of the DOING GENDER Lecture Series. These lectures stress the importance of doing gender work combined with an active involvement in the practice of gender theory and research. The concept of DOING GENDER supports a hands-on approach to gender issues in the sense of social and political engagement with the new forms of gender inequalities that are taking shape in the world today. The lecture series wants to give space to the new generations of gender theorists and practitioners and to perspectives that innovate the field and do gender in new ways. Key is the notion of doing gender: what is the state of the art definition of gender? How do contemporary scholars and activists utilise this definition?
On Tuesday June 26, 2018 Ghassan Hage will give a Doing Gender Lecture on Nostalgic Whiteness as A Political Form Today.
Abstract lecture Nostalgic Whiteness as A Political Form Today:
In many western countries White politics takes the form of a politics of White restoration. The very idea of restoration embodies a form of nostalgia to a past that politics aims to recuperate. In this presentation, I will examine what such politics tell us about the culture and politics of Whiteness today.
Professor Ghassan Hage is the University of Melbourne's Future Generation Professor of Anthropology and Social Theory and a Fellow of the Australian Academy of the Humanities. He is currently a Distinguished Visiting Professor at the Research Centre for Material Cultures, a research institute within the Tropenmuseum (Amsterdam), Museum Volkenkunde (Leiden) and the Afrika Museum (Berg en Dal). Ghassan has published widely on the comparative anthropology of racism, nationalism, multiculturalism, and migration. His earlier work include White Nation: Fantasies of White Supremacy in a Multicultural Society (1998) where he explores the desire for a white nation lurking in even the most cherished liberal Western ideals. Professor Hage has also written on the political dimensions of critical anthropology and its capacity for envisioning alternative futures of political engagement (Alter-Politics: Critical Anthropology and the Radical Imagination, 2015). His most recent publication, Is Racism an Environmental Threat?, is concerned with the intersection between racism and the ecological crisis. Professor Hage is currently finishing a book on the diasporic condition as a lenticular condition based on a ethnographic research on the transnational culture of the Lebanese diaspora.
Details lecture
Tuesday June 26, 2018
Lecture:               Nostalgic Whiteness as A Political Form Today
Time:                    14:30 – 16:00 hrs
Location:             Utrecht University – Drift 25, room 1.02
Chair:                   Dr. Layal Ftouni
Registration is compulsory: nog@uu.nl