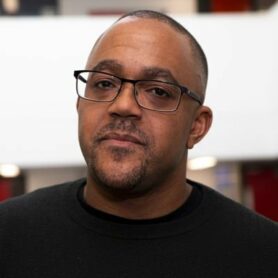 The Netherlands Research School of Gender Studies in cooperation with her partners organises the DOING GENDER Lecture Series. These lectures stress the importance of doing gender work combined with an active involvement in the practice of gender theory and research. The concept of DOING GENDER supports a hands-on approach to gender issues in the sense of social and political engagement with the new forms of gender inequalities that are taking shape in the world today. The lecture series wants to give space to the new generations of gender theorists and practitioners and to perspectives that innovate the field and do gender in new ways. Key is the notion of doing gender: what is the state of the art definition of gender? How do contemporary scholars and activists utilise this definition?
On Monday 30 January 2023, Prof. Kehinde Andrews (Birmingham City, School of Social Sciences, UK) will give the first Doing Gender lecture of the new year! The Battle for Black Studies: Decolonising knowledge is not just 'academic. 
Lecture: The Battle for Black Studies: Decolonising knowledge is not just 'academic
In September 2017 we have launched the first Black Studies degree in Europe at Birmingham City University. Far from this being a celebration of having Black perspectives at universities, the aim is to use the opportunity to use the university to develop what Robert Staples called the 'science of liberation'. Black Studies has a long history in the UK, being done in the grassroots in community organisations and supplementary schools. This talk will discuss the importance of developing a critical Black Studies at the intersection and the tensions of housing the degree and research in the university space. Black Studies is essential, but can it flourish in the institutionally racist space of academia?
Biography:
Kehinde Andrews is Professor of Black Studies at Birmingham City University. His latest book The Psychosis of Whiteness will be published in 2023 by Penguin Allen Lane. He has also written The New Age of Empire: How Racism and Colonialism Still Rule the World (2021); Black to Black: Retelling Black Radicalism for the 21st Century (2018) and Resisting Racism: Race, Inequality and the Black Supplementary School Movement (2013). He is editor of the Blackness in Britain book series with Bloomsbury. Andrews has written opinions pieces for outlets including the Guardian, Independent, Washington Post and CNN and regularly appears on television, podcasts and radio. He advised a number of corporations on equality and diversity issues and is an international keynote speaker. Andrews is founder of the Harambee Organisation of Black Unity and editor-in-chief of Make it Plain
This lecture is co-organised with the Evens Foundation. Kehinde Andrews and Koen Leurs (chair of the session) are both laureates of the Evens Education Prize 2020
Details lecture:
Doing Gender Lecture Prof. Kehinde Andrews
Monday 30 January 2023
Lecture: The Battle for Black Studies: Decolonising knowledge is not just 'academic
Time: 17.30-19.00 hrs.
Location: Utrecht University Inner City Campus, Drift 25, 0.02
Chair: Dr. Koen Leurs
Registration: please fill in the form below