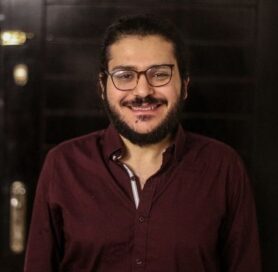 On December 8, 2021 (22 months after his arrest in Egypt) GEMMA student Patrick Zaki was released on parole! On February 14, 2022 Patrick uttered a statement of gratitude to everyone who supported him. He remains on trial however by an emergency court on "false news charges". After numerous  hearings the trial against him has been postponed time and again which deeply disappointed him. The eight hearing in November 2022 was adjourned for three months to February 2023 — just like in the seven past instances. See here and here. Although free, after 22 months of pre-trial custody, he is not allowed to leave Egypt.
For more information on Patrick's case see below.
On December 7, 2021 an Egyptian court ruled that GEMMA student Patrick George Zaki should be released on parole. Following the court's decision, Patrick was transferred to Mansoura Police Station and was released pending trial on December 8! Patrick Zaki is accused of "spreading false news inside and outside the country" based on an opinion article he published on the Daraj website. Patrick was detained in Egypt on February 7, 2020 and has been unjustly kept in prison for 22 months awaiting trial. He could face 5 years in prison. His case has been postponed until June 2022.
The GEMMA Consortium wants to express its gratitude to all the people who have been relentlessly working for Patrick's release during the past months: the GEMMA partner universities, specially the University of Bologna who has lead the movement of solidarity with Patrick; to the respective national and international NGO's and authorities and the European Commission who have done all in their power to guarantee Patrick's return to our community; the GEMMA students and staff who have demonstrated that the GEMMAnism is much more than just an academic network, but a community of solidarity and commitment to human rights; the Voices for Patrick initiative who made Patrick's voice heard throughout all his friends and supporters; and to all the individuals who had been part of the multiple manifestations and initiatives asking for Patrick's freedom since the beginning of this process.
Thank you all for your support. This is a first step towards Patrick's final liberation, but let us not forget that the charges against him have not been withdrawn. We will continue working until he is finally acquitted of all charges against him and he can resume his studies in GEMMA and obtain his Erasmus Mundus Master's Degrees.
See the post below for more information about the initiatives and actions taken by numerous organizations and governments since February 2020.

On February 7, 2020 the Egyptian police have arrested GEMMA student and human rights activist Patrick George Zaki after he spoke out against President Abdel-Fattah el-Sisi's government. Lawyers told the Italian press that the student – who was at that time studying in Bologna, Italy – was detained at Cairo International Airport on Friday February 7, 2020 and roughed up by police. Zaki had recently waged a campaign in Italy for greater transparency into the death of Italian Cambridge grad student Giulio Regeni, who was tortured and killed in Cairo in 2016 after researching opposition politicians and labor unions in Cairo. Zaki's arrest is being described as a product of an unprecedented crackdown on dissident voices. Zaki had taken leave from the NGO Egyptian Initiative for Personal Rights to work on the Erasmus Mundus Master's Degree in Women and Gender Studies GEMMA at the University of Bologna.
The airport immigration officers arbitrarily arrested and tortured human rights defender Patrick Zaki George at 4:30 am upon his arrival at Cairo airport on charges including "disseminating false news", "inciting protest without permission", "calling for the state to be overthrown", "managing a social media account that aims to undermine the social order and public safety" and "incitement to violence and terrorist crimes". In detention, National Security Agency officers questioned and tortured him before he appeared in front of the prosecutor the following day.
The Erasmus Mundus Master's GEMMA, coordinated by the University of Granada with the participation of the University of Bologna, Central European University, University of Lodz, University of Oviedo, University of Utrecht and University of York and the support of the European Union, expresses its utmost concern about the safety of one of its students, Mr Patrick George Zaki, who was detained on February 7, 2020 upon his arrival to Egypt for a short visit to his family.
We urge the Egyptian government to immediately and unconditionally release Patrick George Zaki, and that, while in custody, it is ensured that he is protected from torture and other ill-treatment and that he has access to his lawyers and family. We also demand that all necessary measures to prevent further threats and attacks against students, researchers, academics, journalists and human rights defenders are taken.
On Saturday February 15, 2020 an Egyptian court rejected Patrick George Zaki's appeal to be released from detention, according to human rights group the Egyptian Initiative for Personal Rights, where Zaki previously worked as a gender rights researcher. The appeal court in the Nile Delta city of Mansoura – Zaki's hometown – ruled that the researcher will remain in detention pending an investigation. Patrick will continue to be detained on remand until the 22nd of February where he is set to stand before a prosecutor again.
On Saturday February 22, 2020 the Egyptian prosecutors extended Patrick George Zaki's detention with another 15 days. His defense attorney Lubna Darwish said that despite her client's ordeal, which included having his head shaved, Zaki was in good spirits. "They cut his hair, but he's smiling," she said.
Patrick remains in custody for another 2 weeks. On March 9, 2020 EIPR's lawyers were able to obtain a confirmation from Supreme State Security Investigations (SSSP) that Patrick's next renewal hearing is scheduled for Saturday March 21. Patrick's family were also able to visit him in his new place of custody in Tora Prison Complex, after the prosecutor issued permission for a family visit on Saturday March 7 during the renewal hearing.
The Supreme State Security Investigations was meant to first take place on March 16 before Patrick's detention legally expires, and then was postponed to March 23 and subsequently to March 30. On March 30 – for the third time – the Prosecution issued its decision to postpone for another week without holding the hearing and without the defendants' presence.
Read the statement of the GEMMA Consortium here.
Read the statement of the University of Bologna here.
Read the statement of the GEMMA students here.
See here for an update on the press releases concerning Patrick George Zaki.
See here David Sassoli, European Parliament President commenting on Patrick's arrest.
You can sign the petition on Change.org here.
See the website of Amnesty International (May 2020) for a letter that you can send to the Public Prosecutor Hamada al-Sawi.
See here the Facebookpage of GEMMA, the Erasmus Mundus Master in Women's and Gender Studies.
See here for an article in DUB, the independent news site of Utrecht University (Dutch only).
On Monday February 17, 2020 at 6 pm all GEMMA partners will organise a protest in their respective cities. In Utrecht we'll gather at the Janskerkhof in front of the Anne Frank statue. Feel free to join us and ask for the immediate and unconditional release of Patrick and for an independent investigation into the torture he has suffered. We urge the Egyptian authorities to also ensure that – pending his release – he is granted access to his lawyers, family and medical care; and that he is protected from torture and other ill-treatment. We finally urge the Egyptian authorities to immediately and unconditionally release all those detained solely for defending human rights and for peacefully expressing their opinions. See you all on Monday with protest signs, banners and whatever signs of solidarity you have! Please spread the word through social media and put pressure on the Egyptian authorities #freepatrickzaki
See the Facebook event here.
On Wednesday February 19, 2020 at 5.30 pm Amnesty International Vlaanderen will protest in front of the Egyptian Embassy at the Uruguaylaan 19 in Brussels. See the Facebook event here.
June 29, 2020: The Egyptian President Abdul Fatah al-Sisi has announced his intention to pardon five hundred and thirty prisoners in connection with the danger of COVID-19 infection. Zaki suffers from asthma and should therefore qualify for this. Rector Francesco Ubertini – from Bologna University – immediately made a statement for the release of Patrick Zaki under the COVID-19 law enforcement measures. Michael Ignatieff, President and Rector of the Central European University, has since publicly agreed with this statement, as have the other rectors of the GEMMA consortium. See here the statement of Utrecht University in English and Dutch.
September 12, 2020: Rector Francesco Ubertini from Bologna University made another statement for the release of Patrick Zaki. You can read the English version here.
The Egyptian Initiative for Personal Rights is keeping a dossier on their website on Patrick's case. See here.
In October 2021 Amnesty International is organizing an Urgent Action for Patrick Zaki again. Please send an email to President al-Sisi right now: https://www.amnesty.nl/forms/urgentactions-egypte-zaki
You can also write President al-Sisi a letter by using this model:
https://www.amnesty.org/en/wp-content/uploads/2021/10/MDE1249212021ENGLISH.pdf
On December 8, 2021 Patrick was released on parole!!
Read the statement of the GEMMA Consortium here.
Read the press release on the website of the Egyptian Initiative for Personal Rights
Read the news on the Dutch website of Amnesty International.