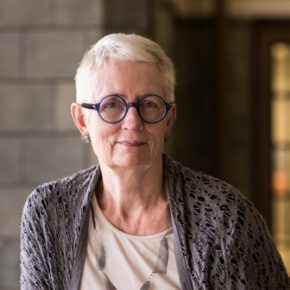 The Netherlands Research School of Gender Studies in cooperation with her partners organises the eighteenth round of the DOING GENDER Lecture Series. These lectures stress the importance of doing gender work combined with an active involvement in the practice of gender theory and research. The concept of DOING GENDER supports a hands-on approach to gender issues in the sense of social and political engagement with the new forms of gender inequalities that are taking shape in the world today. The lecture series wants to give space to the new generations of gender theorists and practitioners and to perspectives that innovate the field and do gender in new ways. Key is the notion of doing gender: what is the state of the art definition of gender? How do contemporary scholars and activists utilise this definition?
Lecture: Triple A: Nalini Malani's Political Art
In view of the current interest in political art, seen as art with an activist thrust, I will propose a theorization of such art, calling it "activating" rather than activist. Indian artist Nalini Malani is a brilliant example of an artist who deploys her art with a keen political angle. But how do we distinguish art from propaganda, political or otherwise? This question, I contend, is part of the artistic program itself. With ample visual examples I will call on Malani to make such an argument, and develop the place of gender in her work. Given my take on the connections between art, activism and activation, gender will be approached in all its intersections, since all need to be activated, and exclusion must be excluded.
Mieke Bal is a cultural theorist, critic, video artist and occasional curator. She works in cultural analysis, literature and art, focusing on gender, migratory culture, psychoanalysis, and the critique of capitalism. Her 38 books include a feminist trilogy on the Hebrew Bible and a trilogy on contemporary political art. Her video projects, A Long History of Madness and Madame B, both with Michelle Williams Gamaker, are widely exhibited. Madame B was in 2017 combined with paintings by Edvard Munch in the Munch Museum in Oslo. Her most recent video project is Reasonable Doubt, on René Descartes and Queen Kristina (2016).
www.miekebal.org
Doing Gender Lecture details:
Tuesday May 15, 2018

Lecture:    Triple A: Nalini Malani's Political Art
Time:         15:30 – 17:00 hrs
Location:  Utrecht University, Drift 25, room 0.02
Chair:         Prof. Rosemarie Buikema
This Doing Gender Lecture is free of charge.
Registration is compulsory: nog@uu.nl