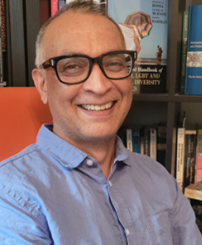 The Netherlands Research School of Gender Studies in cooperation with her partners organises the DOING GENDER Lecture Series. These lectures stress the importance of doing gender work combined with an active involvement in the practice of gender theory and research. The concept of DOING GENDER supports a hands-on approach to gender issues in the sense of social and political engagement with the new forms of gender inequalities that are taking shape in the world today. The lecture series wants to give space to the new generations of gender theorists and practitioners and to perspectives that innovate the field and do gender in new ways. Key is the notion of doing gender: what is the state of the art definition of gender? How do contemporary scholars and activists utilise this definition?
On Thursday October 6, 2022 Prof. Momin Rahman will give the Doing Gender Lecture Queer as Intersectional Refraction: Queer Muslim Challenges to the Understanding of LGBTQ2S Rights and Muslim Identities
Lecture: Queer as Intersectional Refraction: Queer Muslim Challenges to the Understanding of LGBTQ2S Rights and Muslim Identities
This talk draws on the theoretical and methodological aspects of an ongoing research project on LGBTQ2S/queer Muslims.  I have three main aims in the talk. First, I use intersectional analysis to deconstruct the assumed opposition between Muslims and LGBTQ2S rights. I focus on queer Muslim identities and experiences which disrupt the dichotomous positioning of mainstream Muslim and mainstream LGBTQ2S identities and politics. This move encompasses both a theoretical use of intersectionality and a related methodological approach to standpoint research.  The second aim is to move from theoretical inquiry to practical politics, relying here on the praxis element of intersectionality.  Using the interview data from the project, I demonstrate how practical strategies for equity practices derive from the critical theoretical frame of intersectionality. The final aim is to show how intersectional theories and methods can aid in decolonizing our knowledge of both LGBTQ2S and Muslim politics and move us towards a more practical deployment of human rights strategies that build solidarity rather directing us to think of oppression in one dimension.
Biography:
Prof. Momin Rahman (he/him) is a Professor of Sociology at Trent University in Canada. His current research is on the conflicts between LGBTQ2S identities and Muslim cultures, and the experiences of LGBTQ2S Muslims, including a funded research project on LGBTQ Muslims in Canada.  He has presented this work at international academic conferences and at private policy meetings such as the United Nations Human Rights Council.  He has published over 35 chapters and articles and 4 books: The Oxford Handbook of Global LGBT and Sexual Diversity Politics (2020, co-edited with Michael Bosia and Sandra McEvoy, Oxford University Press), Homosexualities, Muslim Cultures and Modernity, (2014, Palgrave Macmillan), Gender and Sexuality (2010, with Stevi Jackson, Polity) and Sexuality and Democracy (2000, Edinburgh University Press).
He also served as the co-chair for the Equity committee for the national academic union in Canada, the Canadian Association of University Teachers, from 2018-2022. In this role he has focused on developing a web-based resource of action plans for faculty to address systemic inequalities in the profession, particularly around the systemic under-representation of racialized faculty. This Equity Toolkit was launched in 2022.
Details lecture:
Doing Gender Lecture Prof. Momin Rahman
Thursday October 6, 2022

Lecture: Queer as Intersectional Refraction: Queer Muslim Challenges to the Understanding of LGBTQ2S Rights and Muslim Identities
Time: 15.30 – 17.00 hrs.
Location: Utrecht University Inner City Campus, Janskerkhof 15A, 0.04
Chair: Dr. Adnan Hossain
Registration: please fill in the form below