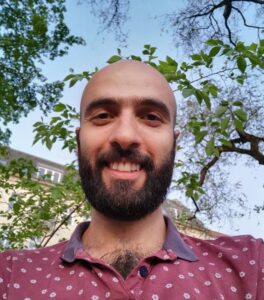 On Tuesday June 29, 2021 from 17:00-18:30 hrs Dr. Fadi Saleh will give the online NOG lecture 'Syrian LGBTIQ Refugees after the Hype: Affects, Representations, and Queer Humanitarianism'.
In this NOG lecture, Fadi Saleh provides a brief history of the emergence, consolidation, and disappearance of Syrian LGBTIQ refugees as a humanitarian constituency and a globalized group-identity within the context of the Syrian uprisings of 2011, the ensuing conflicts and war, the so-called "refugee crisis" in 2015 – 2016, the intensified and global media and humanitarian interest in Syrian LGBTIQ refugees, and the eventual waning and demise of the affective hype and representational frenzy after 2016.
Virtually unknown and irrelevant to the global, mainstream gay politics and humanitarian-asylum institutions before 2011, Syrian LGBT people, primarily in their capacity as refugees, have steadily gained representational weight and become objects of Western humanitarian efforts, media attention, and NGO reports. Images of "the suffering Syrian gay refugee" have become the mainstream hallmarks of what it means to be a Syrian LGBT person.
In the first part of this lecture, Saleh traces this recent emergence and circulation of narratives, images, and stories of Syrian LGBT refugees as the ultimate figures of suffering whose worthiness of both representation (albeit monolithic) and humanitarianism is contingent upon their ability to narrate their life histories in ways that heavily correspond to Western notions of how queer life in a Middle Eastern/Arab/Muslim country is supposed to be like. By doing this, Saleh de-naturalizes this image and examine its affective, representational, and queer humanitarian conditions of possibility and the political logics behind it.
In the second part, Saleh further deconstructs the contingency of Western media and humanitarian interest in Syrian LGBTIQ refugees/populations by reflecting on the waning attention to and decrease in the affective/representation currency of Syrian LGBTIQ refugees following the "climactic" height of the so-called refugee crisis. By doing this, his aim is not solely to expose the incongruities and fissures in Western LGBTIQ (migration) politics, but also to propose different, more consistent, and more sustainable ways of writing, representing, and politicizing LGBTIQ refugee issues beyond affective political responses and monolithic representational politics.
Biography:
Fadi Saleh finished his PhD in cultural anthropology at the University of Göttingen, Germany. His research and teaching focus on queer and trans issues from a transnational perspective, with a focus on migration, humanitarianism, and the politics of representation and knowledge production. His work has appeared in Middle East Critique and Transgender Studies Quartertly. Outside of academia, he has worked in different LGBTIQ organizations across the MENA region and Europe in different training, consultancy, advocacy, and activist capacities.
This lecture will take place online.
Registration: closed
On Wednesday June 30, 2021 Dr. Fadi Saleh will teach the NOG masterclass 'Queer/Trans Anthropology: Insights for Transdisciplinary Research'.