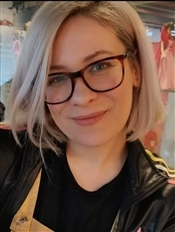 On Friday June 25, 2021 NOG PhD Laura Candidatu will defend her PhD thesis Digitally mediated diasporic formations: Everyday mothering practices of Romanian, Turkish, and Somali women living in the Netherlands at Utrecht University. 
Digitally mediated diasporic formations
This research looks at how Romanian, Somali and Turkish women living in the Netherlands make use of digital media to connect with each other locally, and with family and loved ones transnationally. The experience of mothering is taken as main vantage point in order to show the intimate ways in which gender, media and diaspora are connected. In this sense, the concept of diasporic mothering is proposed to capture how migrant women manage their own diasporic subjectivities and the lives of their children, together with the well-being of their families, and the maintenance of their communities.
Candidatu's research is based on one-year of fieldwork with the three diasporic communities. In the Romanian community, she shows how highly skilled migrant mothers mainly engage in diaspora formation via efforts aimed at the maintenance of family ties and heritage language transmission with class and homeland politics playing an important role. In the Turkish case, she discusses the interplay between class and religion and here also homeland politics represent the terrain on which these divisions play out. In the Somali analysis, she shows how Somali mothers' participation in diasporic formations are strongly shaped by the local Dutch policy and institutional context.
Details PhD Defense
Date: Friday June 25, 2021
Time: 10:15 hrs
Location: Due to Covid-19 the PhD defense is hybrid. You can follow the ceremony through this livestream .
Title: Digitally mediated diasporic formations: Everyday mothering practices of Romanian, Turkish, and Somali women living in the Netherlands
Supervisors: Prof. dr. Sandra Ponzanesi, Prof. dr Rosemarie Buikema and Dr. Koen Leurs