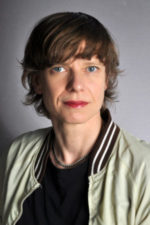 On Thursday November 22, 2018 (10.00-12.45 hrs) NOG is organizing a Masterclass with Kata Diefenbach on 'Possessive Individualism and Transatlantic Slavery in Early Modern Philosophy'. One of Spinoza's first biographers noted that the philosopher's ink-and-charcoal drawings included a self-portrait in the pose and costume of Masaniello. The Neapolitan revolutionary was involved in one of the first mass insurrections of the Modern era. Recurrently, the existence of this portrait was used to illustrate Spinoza's position in early modern philosophy as an »Anti-Hobbes« (Negri) who – under the influence of Machiavelli's realism – was early to formulate a « mass standpoint in philosophy » (Balibar) with which he affirmed that legal authority « does not equal real force » (Montag) in that the stability of democracy rests on the potentialities of the masses which can never be subsumed under the name of the People, the Party or the State. Our Master Class will start by showing that at the foundation of this doctrine of the conflictual constitution of the Republic by and through the passions of the multitude, we find a concept of natural law which Spinoza took from Hobbes in order then, step by step, to turn it against the latter's conception of ego-logical drives, possessive individualism and absolute sovereignty. What was thereby inscribed, deep in the origins of modern philosophy, is a fundamental disagreement about questions of appropriation, guilt and sovereignty, which also reflects the violent conflicts of early modern state foundation and colonial globalization.
Katja Diefenbach is Professor of Aesthetic Theory at the Merz Akademie, Stuttgart. Her research interests are French philosophy and epistemology of the 20th century, with a special focus on the relations between Marxism and Poststructuralism. She recently published Spekulativer Materialismus. Spinoza in der postmarxistischen Philosophie (Turia + Kant, 2018). She is co-editor of the volume Encountering Althusser: Politics and Materialism in Contemporary Radical Thought (Bloomsbury, 2013), and author of numerous articles on political philosophy, aesthetics and cultural theory. She has taught at various universities, such as the Berlin University of the Arts, Humboldt University, and Jan van Eyck Academy in Maastricht. She is an Editorial Board member of the publishing collective b_books, Berlin.

Registration:
Participation is open for advanced RMA students and PhD students. Possible students' presentations (10 to 20 min.) can engage with one of the texts from the reading list or with a selection of arguments from different texts.
PhD and RMA students can receive 2 ECTS for attending the Masterclass and the Symposium 'Caring for the World. Ethos and Partisanship' (on November 23). And an extra 1 ECTS when writing a paper of 4.000-5.000 words. Please note if you wish to receive credit for the Masterclass with your registration at nog@uu.nl.
You can register for the masterclass until November 12, 2018: nog@uu.nl.
More information about the masterclass can be found in the announcement.