The upcoming NOG Research Day will take place on Friday June 3, 2022, via Zoom. Organized by Maastricht University Centre for Gender and Diversity (the Netherlands), the program will include: a lecture by our keynote speaker SA Smythe (UCLA); a roundtable featuring recently launched research projects in the field of gender studies at Dutch Universities briefly presented by the PIs and commented on by the keynote. Subsequently, we can discuss the main trends in our research field that may be inferred from these projects;  a PhD event, with recently started PhDs sharing their experiences in designing and starting up a PhD project.
Program:
10.30 – 12.00: Roundtable
12.00 – 13.00: Break
13.00 – 14.30: Keynote
14.30 – 15.30: Break
15.30 – 17.00: PhD Panel
Roundtable Speakers:
Layal Ftouni: Assistant Professor of Gender Studies and Critical Theory, Utrecht University – "Ecologies of Violence: Affirmations of Life at the Frontiers of Survival"
Elisabetta Costa: Assistant Professor Media and Journalism Studies, University of Groningen – "Work and digital inequalities in southern Europe"
Annemie Halsema: Professor by special appointment in Philosophy, Leiden University and Associate Professor of Feminist Philosophy, Vrije Universiteit Amsterdam – "Hermeneutics of the body. Interpreting trans and cis gender"
Diego Semerene: Assistant Professor of Queer and Transgender Media Studies, University of Amsterdam – "This Trans Discourse Which Is Not One: Notes from a Psychoanalytic Encounter with Trans-ness"
Eva Hayward: Assistant Professor of Gender Studies/Media and Culture, Utrecht University – "After Medusa"
Keynote lecture by SA Smythe: Black Life, Trans Study, and the Geographies of Institutionalization
In this talk, SA Smythe thinks through historical and contemporary articulations of borders and disciplines, to discuss their impacts on whether we come to capaciously understand "where" trans studies is located in a geographical, narrative, and epistemological sense. Smythe will go on to describe some implications for a continued trans studies formation in Europe and across the West that takes as some of its core concerns and ethical commitments black people, black life, and black capacities for insurgency and experimentation. Writing against the logics of displacement, disciplinarity, and depletion, they will reflect on both the institutionalization of trans studies in Western academia and the material disregard of those rendered systematically oppressed and vulnerable under extractive regimes of cisheteropatriarchial white supremacy.  Smythe brings together black feminist and trans thought, and imagined and material archives, and transnational geographies to draw forth what they term a "nonbinary approach" to black and trans liberation, poetics, and study in this terminal era of crisis and possibility.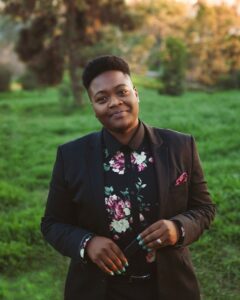 Dr. SA Smythe (they / them) is a poet, translator, and assistant professor of Black European Cultural Studies, Contemporary Mediterranean Studies, and Black Trans Poetics at the University of California, Los Angeles (UCLA), where they research relational aspects of Black belonging beyond borders. Smythe is also a Senior Fellow at the Center for Applied Transgender Studies. They are the editor of Troubling the Grounds: Global Configurations of Blackness, Nativism, and Indigeneity special issue for Postmodern Culture, and the forthcoming book, Where Blackness Meets the Sea: On Crisis, Culture, and the Black Mediterranean.  Also forthcoming is a full volume of poetry titled proclivity, which takes up a familial history of Black migration, trans embodiment, and Black liberation. Smythe organizes with students and other comrades in the broader Cops Off Campus Coalition and other abolitionist/anti-carceral groups across Turtle Island and in Europe. Winner of the 2022 Rome Prize, Smythe is currently based between Rome, Italy and Tongva Land (Los Angeles).
pronouns: they/them (What does this mean?) ITA/FRA/ESP: lui / iel / elle
To prepare (see the website):
1. "Black Life, Trans Study: On Black Nonbinary Method, European Trans Studies, & the Will to Institutionalization" (2021), TSQ: "Europa"
2. "Can I Get a Witness? Black Feminism, Trans Embodiment, Thriving Past the Fault Lines of Care" (2022), Palimpsest: A Journal on Women, Gender, and the Black International
3. "The Black Mediterranean and the Politics of Imagination" (2018), Middle East Report: "Suffering and the Limits of Relief"
PhD panel: How to Design and Start up your PhD Project: Challenges and Strategies
– Vasiliki Belia, Maastricht University
– Aldo Kempen, Open University
– Nik Linders, Radboud University
– Sarah Trottier, Utrecht University
Date: Friday June 3, 2022
Time: 10.30 – 17.00 hrs (CEST)
Location: online via Zoom
Information: nog@uu.nl
Registration: please register via this link. After registration you'll receive an email from ICT FASoS with the Zoom link.
Photo credit SA Smythe: Sorrell Scrutton