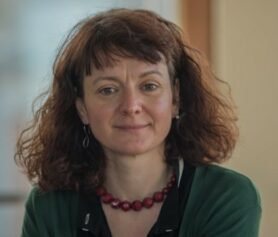 The Netherlands Research School of Gender Studies in cooperation with her partners organises the DOING GENDER Lecture Series. These lectures stress the importance of doing gender work combined with an active involvement in the practice of gender theory and research. The concept of DOING GENDER supports a hands-on approach to gender issues in the sense of social and political engagement with the new forms of gender inequalities that are taking shape in the world today. The lecture series wants to give space to the new generations of gender theorists and practitioners and to perspectives that innovate the field and do gender in new ways. Key is the notion of doing gender: what is the state of the art definition of gender? How do contemporary scholars and activists utilise this definition?
On Thursday June 3, 2021 Sabrina Marchetti will give the Doing Gender Lecture Feminist and domestic workers' movements: Disconnected practices, discursive convergences.  
Lecture: Feminist and domestic workers' movements: Disconnected practices, discursive convergences.
The last decade has seen a resurgence of feminist mobilizations across the globe which tends to bring forward explicit anti-capitalist analyses and claims. These mobilizations have achieved the inclusion of social and political actors that are normally outside the field of gender issues, in particular anti-racist and pro-migrants' groups, the movement against the precarization of labour, and environmental movements. This wide inclusivity and capacity for anti-capitalist alliance-making of contemporary feminism, makes us think of a possible relation between feminist groups and the domestic workers' movement for its capacity to expose the contradictions of the capitalist system. Yet, looking at the relationship between feminist and domestic workers' movements, in practice this ideal convergence is often thwarted by non-collaboration and reciprocal neglect. The disconnection is probably even more apparent since (migrant) domestic workers have emerged as a new subject of transnational mobilizations during these years of feminist resurgence. Indeed, since the mid-2000s, domestic workers' organizations have been remarkably successful both at the grassroots level and in gathering support from international actors. Such achievements testify to the global dimension of today's movement for domestic workers' rights, which is also rooted in a long history of domestic workers' organizing in some countries and has facilitated policy reforms at the national level.
In this presentation, I am going to argue that despite this frequent disconnection at the practical level, these two movements have a lot to share in their common critique of contemporary capitalist societies. One can observe a possible convergence in the discursive frames that domestic workers' rights activists make use of. In fact, domestic workers' rights activists often seem to build their arguments on the same anti-capitalist frames used by feminist groups, yet they expand them in an intersectional way, enlarging their capacity to also include racialized, low-class, migrant and other minority groups in ways few feminist movements have accomplished. This argument is based on the analysis of the discourses employed by different actors mobilizing for domestic workers' rights in the decade around the passing of C189 (2008–18), gathered in the context of the ERC research project "DomEQUAL: A global approach to social inequalities and domestic workers' rights" (2016–21), a comparative study on domestic workers' rights in Asia, Latin America and Europe.
Biography:
Sabrina Marchetti is an Associate Professor with a chair in Sociology of Cultural Processes and Communication in the Department of Philosophy and Cultural Heritage at the University Ca' Foscari in Venice. She obtained her PhD in 2010 from the Graduate Gender Programme at the University of Utrecht. After obtaining her PhD she held post-doctoral fellowships at the University of Linköping (Sweden), University of Southern California and the European University Institute in Florence. She was awarded research grants from the European Commission, the European Science Foundation, the University of Utrecht and Sapienza University in Rome. Her research interests concern issues of gender, ethnicity, labour and migration, with a specific focus on the question of paid domestic work and home-care service. She is the author of Black Girls. Migrant Domestic Work and Colonial Legacies (Boston: Brill, 2014).
Details lecture:
Doing Gender Lecture Sabrina Marchetti
Thursday June 3, 2021

Lecture: Feminist and domestic workers' movements: Disconnected practices, discursive convergences
Time: 15.00 – 16.30 hrs
Location: online via Teams
Chair: Prof. Dr. Sandra Ponzanesi
Registration: nog@uu.nl ; link will be sent after registration.