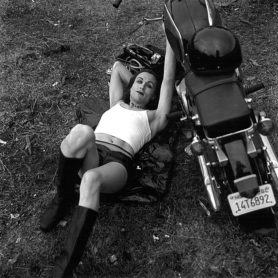 The Netherlands Research School of Gender Studies in cooperation with her partners organises the twentieth round of the DOING GENDER Lecture Series. These lectures stress the importance of doing gender work combined with an active involvement in the practice of gender theory and research. The concept of DOING GENDER supports a hands-on approach to gender issues in the sense of social and political engagement with the new forms of gender inequalities that are taking shape in the world today. The lecture series wants to give space to the new generations of gender theorists and practitioners and to perspectives that innovate the field and do gender in new ways. Key is the notion of doing gender: what is the state of the art definition of gender? How do contemporary scholars and activists utilise this definition?
On Thursday May 2, 2019 Terre Thaemlitz will give the Doing Gender Lecture Viva McGlam?  
Terre Thaemlitz offers a visual and cultural critique on the relationship between glamour and transgender communities in response to the following inquiries: is glamour particularly related to gender expression? Is transgender "glam" a critique or a mere capitulation to the social biases of opulence-driven haute couture glamour? Given that the majority of both transgendered and cisgendered women are not able to achieve an image of glamour, and that feminist visual theories have unpacked many social processes behind representations of the female body, can these theories also elucidate representations of transgender bodies?
This presentation is a collaboration between Netherlands Research School for Gender Studies, Terra Critica, and Casco Art Institute: Working for the Commons, where the exhibition Two Rubatos by Terre Thaemlitz is on view Tuesday – Sunday, 12:00 – 18:00, until 12 May 2019.
You could visit Casco Art Institute to see Terre Thaemlitz' solo exhibition Two Rubatos beforehand.
Terre Thaemlitz (1968) is an award winning multi-media producer, writer, public speaker, educator, audio remixer, DJ and owner of the Comatonse Recordings record label. Her work combines a critical look at identity politics – including gender, sexuality, class, linguistics, ethnicity and race – with an ongoing analysis of the socio-economics of commercial media production. He has released over 15 solo albums, as well as numerous 12-inch singles and video works. Her writings on music and culture have been published internationally in a number of books, academic journals and magazines. As a speaker and educator on issues of non-essentialist Transgenderism and Queerness, Thaemlitz has lectured and participated in panel discussions throughout Europe and Japan. As of January, 2001, he resides in Japan.
Details lecture:
Thursday May 2, 2019
Lecture:    Viva McGlam?
Time:          17:00 – 18:30 hrs
Location:   Utrecht
Chair:         Dr. Kathrin Thiele
The event is fully booked. To be added to the waiting list, please email nog@uu.nl