Utrecht University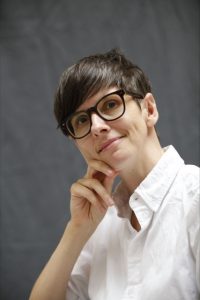 Kathrin Thiele is Associate Professor of Gender Studies and Critical Theory in the Department of Media and Culture Studies at Utrecht University. Trained trans-disciplinarily in Gender Studies, Sociology, Literary Studies and Critical Theory, her research focuses on questions of ethics and politics from queer feminist, decolonial and posthuman(ist) perspectives.
As core faculty of the Graduate Gender Programme, Kathrin Thiele teaches and supervises on all levels in Gender Studies (BA, MA, Research MA, PhD), and she is also programme coordinator (together with C. Quinan) of the Research MA 'Gender Studies'.
Together with Birgit M. Kaiser (UU, Comparative Literature) she co-founded Terra Critica: Interdisciplinary Network for the Critical Humanities (http://terracritica.net). This research group consists of an international network of researchers and a regular local practice called 'ReadingRoom' (http://terracritica.net/readingroom/), organized together with Utrecht based Casco Art Institute (https://casco.art/).
Dr. Thiele is the chair of the NOG Curriculum Committee.