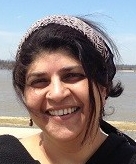 Professor Radhika Gajjala will give a masterclass at Utrecht University on "E-diasporas in big and small "data" space: A postcolonial and feminist perspective".

With the growth of international (im)migration, refugee crises, labor recruitment, leisure activity and social diasporic community connectivity through digital space across time zones  the last two decades, the Internet and related wireless and mobile technologies have become crucial for members of various diasporic communities seeking to connect with both their countries of origin and their host nations. Connections are established not only through social media and email, but also through money transfers, philanthropy and business, gaming and related virtual environments. For instance Internet use facilitates information gathering efforts of (im)migrants searching for potential host countries, assist (im)migrants' acculturation practices after migration, and advance the socio-economic development of diasporic subjects and those they may have left behind. In addition, we also have new forms of digital diaspora that occur through offshore labor forces that have their bodies in their "home" nations but work in time zones and relational socio-financial and organizational spaces that exist "in diaspora." This masterclass will explore issues of theory and method around formations of e-diasporas in big and small digital "data" space.
Professor Gajjala is currently a Fulbright Professor in Digital Culture at the University of Bergen (Norway) and a Professor of Media and Communication at Bowling Green State University (Ohio).
Participation: Participation is free and open to both beginning and experienced scholars, PhD students and research master students who want to present short papers or questions & reflections on work in progress (any format) connected to this theme.
The masterclass will start with an introduction by Professor Gajjala and discussion of readings. The second part will be devoted to students' and PhD's work in progress.
Participants are especially invited to submit short contributions on:
their interviews with individuals or groups and reflections & questions on grappling with the interview situation

related data maps of particular hashtags using a tool such as keyhole.co

images related to hashtags and interviews with cliff notes that will eventually lead to a thorough visual analysis informed by what is learned from steps 1 and 2.

methodological issues: reflections and questions on ways of writing stories of individuals or groups; the search for alternative ways of telling history in different contexts into larger narratives.
Prior to the start of the class participants will have submitted:
A one page description of your research project and problems

One formulated question pertaining to methodology or aim of the research

Deadline for registration: Tuesday May 10, 2016 by sending a one-page description of your possible contribution to the masterclass to nog@uu.nl
Participants can get a Certificate of Attendance. ECTS is possible after a written paper – please contact the NOG for this before the masterclass starts: nog@uu.nl
Details masterclass
Date: Tuesday May 24, 2016
Time: 09.30 – 13.30 hrs
Location: Utrecht University
Registration: Before May 10, 2016
Organizers: Netherlands Research School of Gender Studies & The Postcolonial Studies Initiative
The masterclass is organized within the framework of the ERC project Digital Crossings in Europe: Gender, Diaspora and Belonging.
After the masterclass Professor Radhika Gajjala will give a public lecture on Archives of Subalternity: Questions and Provocations for Digital Humanities.
Details public lecture
Date: Tuesday May 24, 2016
Time: 16.00 – 18.00 hrs
Location: Drift 21, room 0.05
Registration: not necessary